UK WORKSHOP
The workshop is located in the quiet Hertfordshire village of Throcking.
We do service work on our and clients vehicles and prepare them for export.
We store and package parts for export.
Labour rates:
£65.00/hour plus Vat.
The services we offer from this facility are:
General Servicing of customers vehicles prior to export.
Paint and Bodywork
Re-builds and refurbishments
Accident repair
Welding
mailto:globallandrovers@gmail.com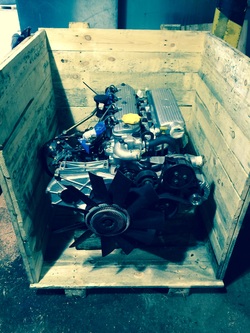 Crate engines, New Transmission and Transfer box. Automatic Gearbox conversions for all tdi and TD5 Defenders.
We can recommend approved WORKSHOP Facilities in Canada, USA and UK where you can take your vehicle to have the upgrades fitted.
To order your kit contact:
mailto:globallandrovers@gmail.comOur main Agent in the USA is Precision Auto Body of Austin Texas
. Here vehicles can be created to your wildest desires. Bespoke builds are a specialty, but we can accommodate everything from general servicing of your Range Rover or Land Rover Defender through to imaginative Bespoke Land Rovers, where the only limitation is your check book!
mailto:overlanddowneast@gmail.com
In the USA we can recommend garages for fitting our kits and our crate engines in the following states: NC, OH, KY, TX, NY, AZ, ME.
---